To complete my look at the current battlegrounds of the parties, here's my look at the prices in the Lib Dem seats and targets:
I've included every seat that the Lib Dems hold and every other seat where the Lib Dem price is 10/1 or less.
This isn't a happy table for Lib Dems. If the seats fall in order of the odds quoted, the Lib Dems will lose 22 seats if they hold only those where they have an evens or better chance (or 24 if we work off 5/6, the bookies' evens). That would leave them with 35 (or 33) MPs.
The bookies and punters expect the Lib Dems to hold up much better against the Conservatives than against Labour. For example, the Lib Dems are at prices of 11/4 and 2/1 in Redcar and Cardiff Central respectively, but in Portsmouth South, a seat with a similar sized majority (and with a far more complicated candidate selection problem), they are 8/11.
Punters appear to have continuing faith that the Lib Dems are in with a shout of making gains in some seats. They are quoted at a price of 10/1 or less in 26 constituencies that they don't already hold. Given their current polling performance, this seems exuberantly optimistic on the part of Lib Dem supporting gamblers. There may be very specific exceptions (Watford, for example), but they must stand next to no chance in most of these seats.
Let's take Truro & Falmouth as an example. The Lib Dems are priced at 11/2 to take this seat. Lord Ashcroft recently conducted an opinion poll in this constituency. Even after prompting voters to think about candidates in that particular constituency, the Lib Dems were trailing in fourth on 16%. I am sceptical about constituency specific opinion polls because of the challenges of getting the right base, but even I would place some weight on this finding. The 1/4 on the Conservatives in this seat looks like a fair bet. Heck, the 25/1 on UKIP (currently polling second in the constituency if Lord Ashcroft is to be believed) is a better bet than the 11/2 on the Lib Dems.
Nor is Truro & Falmouth exceptional. On this polling, the Lib Dems are being crushed in every notional Tory target, with the exception of Watford (click on the picture to enlarge):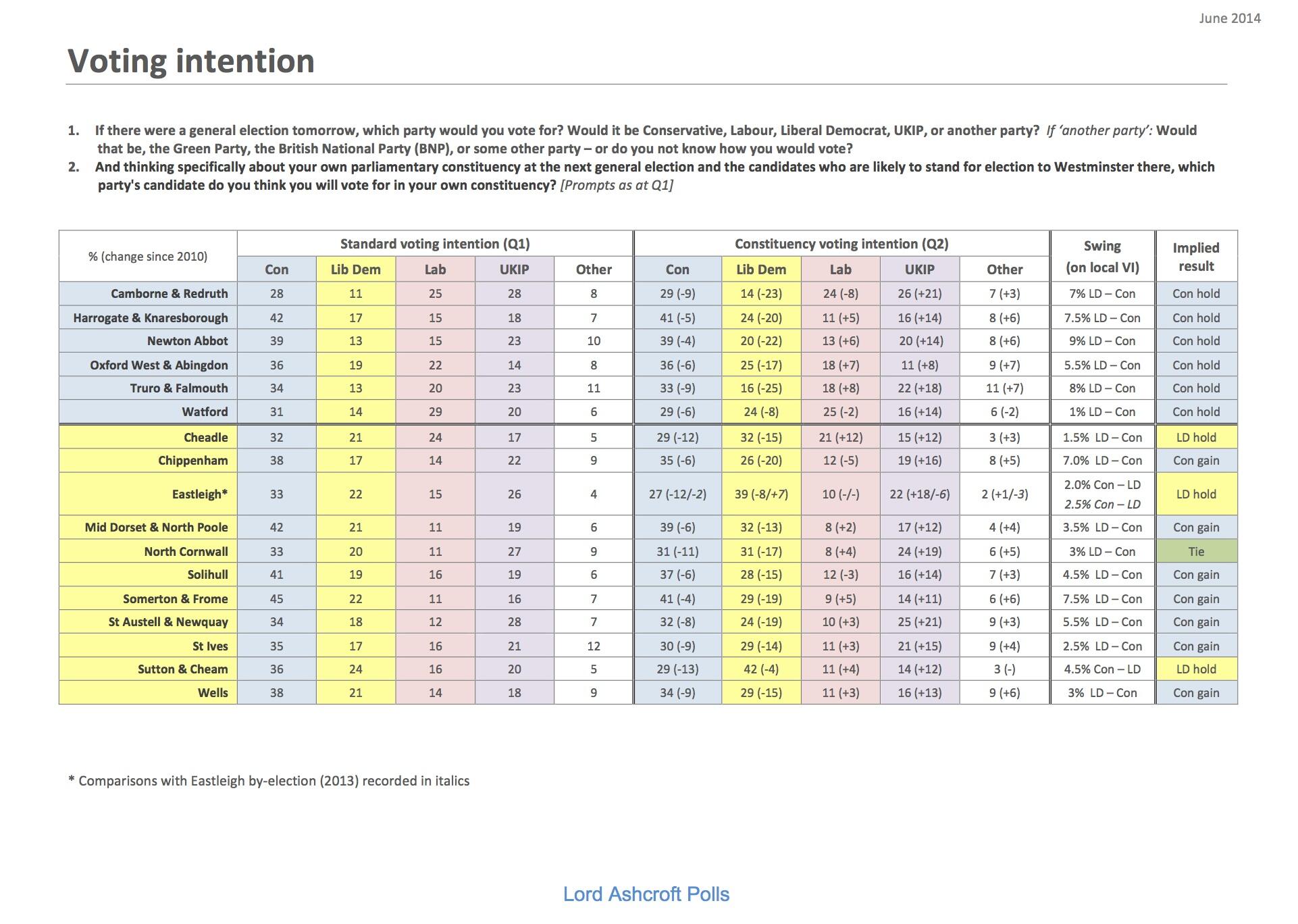 Unless you have truly exceptional information, avoid all bets on the Lib Dems in their notional targets. They look like an invitation from the bookies to commit larceny on yourself.
In turn, this means that the incumbent in such seats may be offered at a good, if short, price. The 1/5 on Labour in Ashfield stands out. Labour are priced at 1/7 in Burnley, a seat in which they have to get a swing of 2.2% and where they have no incumbency advantage. Ashfield has a first time incumbent with a strong public profile (Gloria De Piero). I'm on Labour in this seat.
This phenomenon of good short prices is not just found at this end of the table. You can back Vince Cable to hold Twickenham at 1/4 with Paddy Power. I'm on this bet too.
Bookies and punters continue to expect the Lib Dems to outperform their polling based on incumbency. On the basis of Lord Ashcroft's polling, only Sutton & Cheam really justifies the shortness of the Lib Dem price in the constituency. The good local election results and the clear margin of the Lib Dem lead in the constituency poll means I'm on the 5/6 with Paddy Power here.
I'm bearish on the Lib Dems in many seats, but two seats in particular stand out as having prices that are too short on the Lib Dem side: Gordon and Portsmouth South. Malcolm Bruce is stepping down as MP in Gordon and we can now be fairly sure that Mike Hancock will not be standing in Lib Dem colours next time either. Whatever the local Lib Dem party strengths, those are obstacles that will be hard to overcome.