Sometimes we get new information that is so extraordinary, we need to completely rethink. The latest Scottish constituency polls from Lord Ashcroft come into that category. Here they are: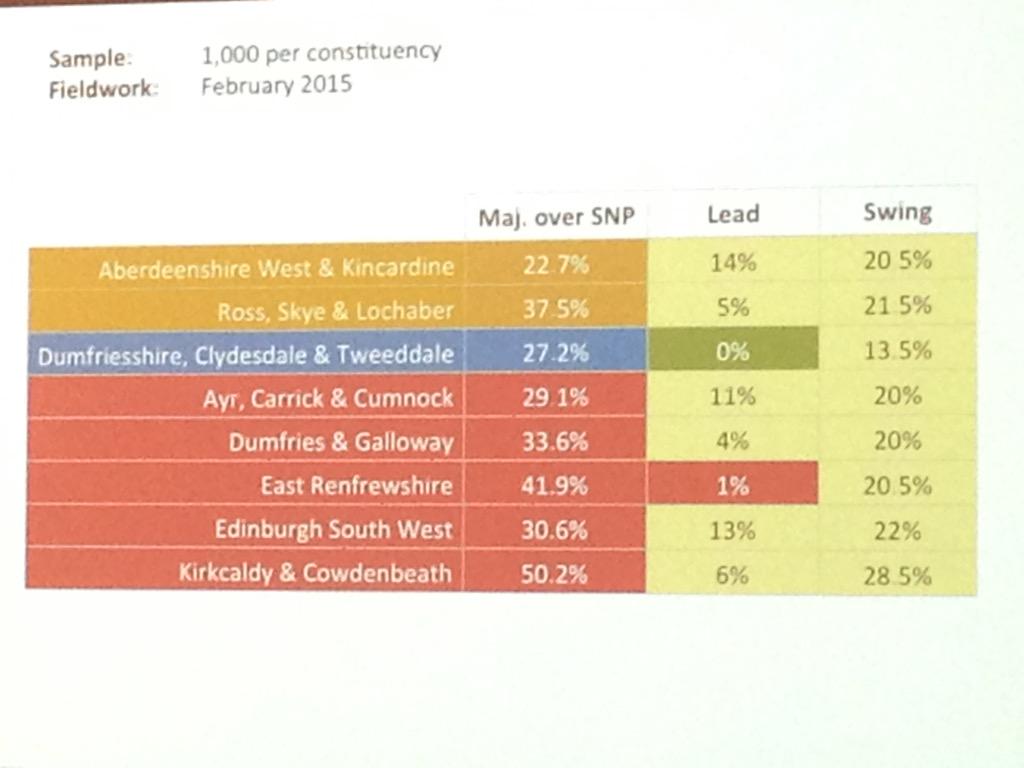 Until this point I, and I believe many others, had been working on the basis that the swing to the SNP would be rather larger in areas that voted strongly Yes than otherwise. This set of polls seems to show that's simply not true. If (as with gymnastics scoring) we discard the highest and lowest in these relatively No-friendly seats, we find that the swing to the SNP is tightly clustered around 21%, only marginally lower than the 24% average swing that Lord Ashcroft's polls found in Yes-friendly seats.
(The much lower swing in Dumfriesshire, Clydesdale and Tweeddale can be explained by the fact that the swing is against the Conservatives, whose vote seems to be much closer to their 2010 levels than either Labour or the Lib Dems are currently finding. The huge swing disclosed in the Kirkcaldy & Cowdenbeath poll is much harder to explain, and for that reason I'm a bit suspicious of that poll as a possible outlier.)
In fact, the consistency of these swings is quite remarkable. In Yes-friendly seats, it seems we can work on the basis of a 24% swing to the SNP. In No-friendly seats, we can work on the basis of a 21% swing. How to draw the dividing line? I suggest using a 45% Yes vote as the cut-off point, being the average percentage for Yes across Scotland.
The overall message from Lord Ashcroft's constituency polls has been put conveniently in pictorial form by Britain Elects: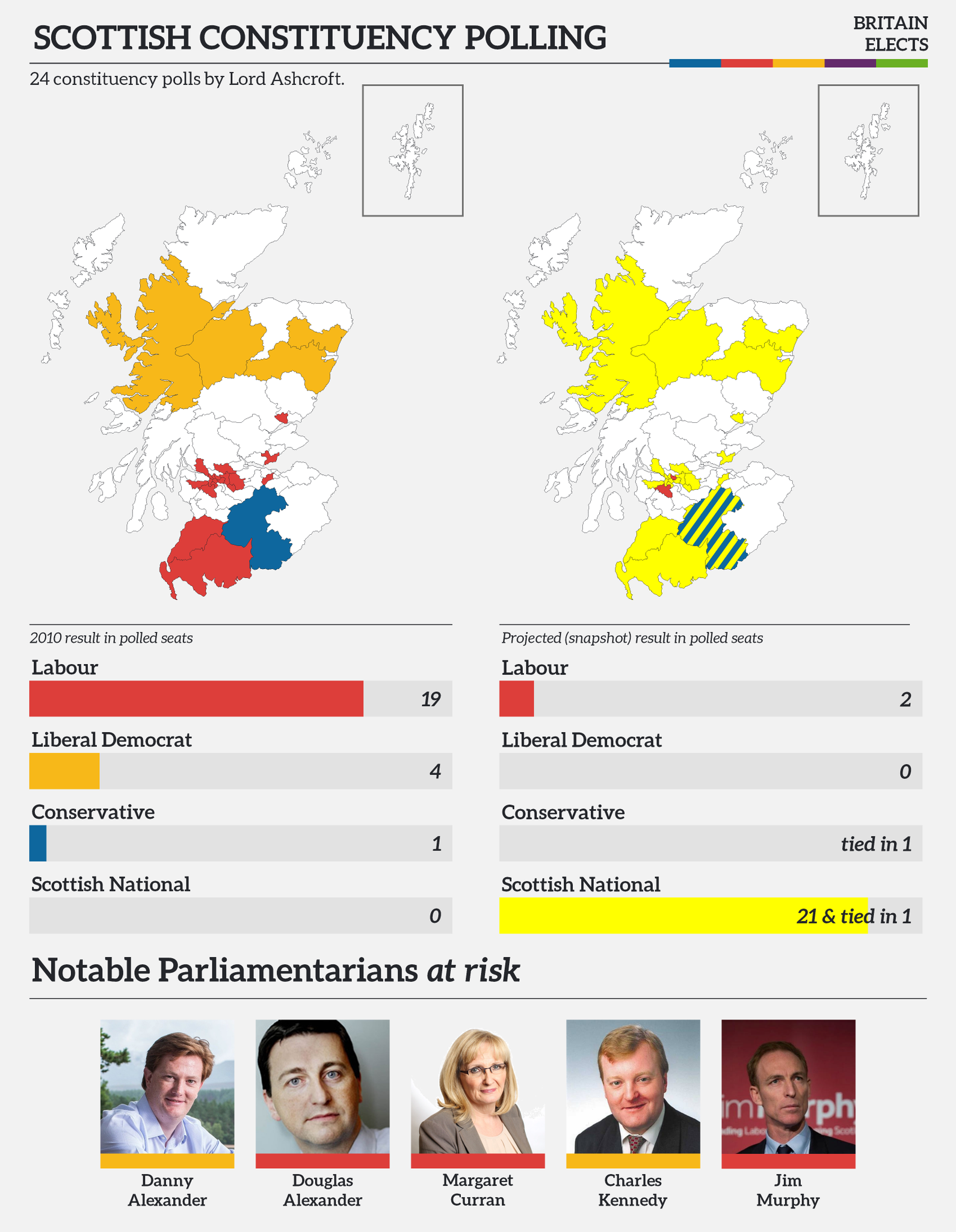 Here are the Scottish seats lined up by swing required for the SNP:
https://drive.google.com/file/d/0Bygi8eZw-4q1YndxUDVSWjI0d1k/view?usp=sharing
On the type of two tier swing envisaged, the only seats to stay out of SNP hands would be Glasgow North East, Orkney & Shetland, Kirkcaldy & Cowdenbeath, Coatbridge Chryston & Bellshill and maybe Rutherglen & Hamilton West,
East
Renfrewshire and Dumfriesshire Clydesdale & Tweeddale. And the SNP have already been recorded as leading even in two of these constituencies, and neck and neck in two more. That suggests the SNP getting well into the 50s in seat count.
I don't see any particular reason why the polls should move away from the SNP rather than stay the same or indeed improve still further. It's not as though it seems that any other party has yet found a silver bullet to stop the SNP in their tracks. We might see tactical voting in some seats, but there's no sign of that yet either. Personal votes may make a difference in some seats - but I have my doubts on that front too, as it happens.
Here are the latest constituency odds on Scottish seats organised as usual by the odds on the SNP taking each seat:
https://drive.google.com/file/d/0Bygi8eZw-4q1RERSaWZPd1hSR0k/view?usp=sharing
The SNP are now favourites in 43 seats. From what I have already written, you will appreciate that I still believe there to be value in these seat markets - the prices still remain behind the curve. It's perhaps wise to avoid seats where some tactical voting might make a difference, but, for example, backing the SNP in East Lothian at 2/1 and in Edinburgh North & Leith at 13/8 looks very worthwhile. (Incidentally, I tipped the SNP in Edinburgh North & Leith last April at 50/1. It seems ironic to be doing so again when the SNP are as short as 13/8, but there you go). These bets may not succeed, but they aren't odds against.